Zoe's pet sitting paradise
Service
Pick up and/or drop off
Fee *
Dog Boarding
£10 / one-way. Maximum distance: 15 km
£20
Holiday Rate £20
Dog Walking
Included in the rate
Maximum distance: 10 km
£15
Holiday Rate £20
Doggy Day Care
£10 / one-way. Maximum distance: 15 km
£20
Holiday Rate £20
* The rates do not include Gudog's commission.
Amended availability in the last 22 days
Available for bookings
Not available
I've had a lot of experience with dogs as I've grown up around them and for the past few years I have been doing pet sitting/boarding. I live just outside of a little village so they're are lots of exciting walks for your dogs, aswell as having a large enclosed back garden that the dogs love running about during the day, at the moment with my studying I'm usually very flexible and able to move things around to accommodate days/times where I'm needed to take care of any dogs. I have experience with many different breeds of dogs and many different personalities as well. If you have any questions at all please don't hesitate to send me a message.
Average rating

Dog Boarding Rate

£20 / night

Dog Walking Rate

£15 / hour

Doggy Day Care Rate

£20 / day

City
Hamilton
Address
QuarterML3 7XQ Hamilton
Type of property
Farm
Outdoor areas
Garden
Outdoor size
175 m²
I own a car suitable for transporting dogs
Other clients' reviews of Zoe
Janet
& Beau
I was an over anxious mummy en route to dropping Beau off for a two night stay but there was no need. Beau was instantly comfortable with Zoe and his new surroundings and although I shed a little tear on leaving him, I knew he was in safe hands. The whole process was really easy and I would have no hesitation in recommending Zoe or booking with her again. Thank you very much!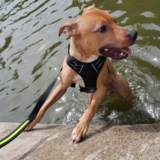 Robert
& Marley
Zoe looked after our Marley for 3 nights and was taken care of very well. The booking was easy to make and Zoe was quick to respond to any queries we had. We would definitely book with Zoe again and recommend her service.
Last login
13 days
Response time
42 minutes
Accepted bookings
50%
Response rate
100%
---
Recommend this Dog sitter to your friends
Tweet
Gudog services in Hamilton