Zoe's pet sitting paradise
Service
Pick up and/or drop off
Fee *
Dog Boarding
£10 / one-way. Maximum distance: 15 km
£20
Holiday Rate £20
Dog Walking
Included in the rate
Maximum distance: 10 km
£15
Holiday Rate £20
Doggy Day Care
£10 / one-way. Maximum distance: 15 km
£20
Holiday Rate £20
* The rates do not include Gudog's commission.
Amended availability in the last 6 months
Available for bookings
Not available
I've gotten lot of experience with dogs and growing up around them, and know how to deal with different types of dogs such as shy, excited etc. Live near lots of long country roads so dogs can get lots of long walks throughout the day and also a big back garden they can play in during the day.
Average rating

Dog Boarding Rate

£20 / night

Dog Walking Rate

£15 / hour

Doggy Day Care Rate

£20 / day

City
Hamilton
Address
Quarter
Type of property
Farm
Outdoor areas
Garden
Outdoor size
175 m²
I own a car suitable for transporting dogs
Other clients' reviews of Zoe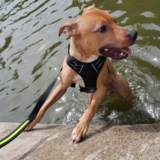 Robert
& Marley
Zoe looked after our Marley for 3 nights and was taken care of very well. The booking was easy to make and Zoe was quick to respond to any queries we had. We would definitely book with Zoe again and recommend her service.
Gudog services in Hamilton