Dog Sit
Amended availability in the last about 2 months
Available for bookings
Not available
Hello!
I moved to Llandegla recently. I am an online English teacher so I work from home. Growing up, I had a dog and I love dogs and would so love to own a dog, but sadly I can't commit long term. So I would love to dog-sit instead! I also love art, and I would love to draw your dog while we hang out!
I live in a small 2 bedroom house, and there is a communal space outside and lovely areas all around Llandegla, too.
Average rating

Dog Boarding Rate

£20 / night

Dog Walking Rate

£18 / hour

Doggy Day Care Rate

£10 / day

City
Llandegla
Address
Pen Stryt LlandeglaLl11 3ag Llandegla
Type of property
House
Outdoor areas
No
I own a car suitable for transporting dogs
Other clients' reviews of Jane
Emma
& 1
Jane was extremely attentive and I would definitely trust her again to look after Sumo.
Simon
& Benji
Jane took care of my Benji, who is still a puppy. Only 16 weeks old.. So more challenging than an adult job..
She was more than happy to take on the extra care involved with a puppy, and Benji seamed to settle in very quickly.
Jane took great care of Benji, and sent me regular photos / videos, and text updates, so I could see how happy he seamed in Janes care..
I would definitely recommend for anyone reading this..
Rebecca
& Kai
Jane is lovely kai is still in training and followed everything we told her and loved that we got updates and photos
Trevor
& Trixie
Trevor
& Trixie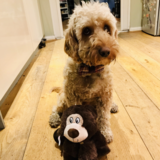 Megan
& Tom
Tom had a great stay with Jane. He settled in straight away and in fact barely noticed me leaving! Got a WhatsApp update of him on his first walk. Would recommend Jane!
Trevor
& Trixie
Jane looked after our little Yorkshire terrier Trixie yesterday and we were delighted with the care provided. As Trixie is a very nervous pooch, we were quite nervous about leaving her for the first time, but we needn't have worried at all. We found Jane to be exceptionally caring and it is obvious that she just adores looking after dogs. Trixie came home happy and contented. Jane sent us photos and videos, as well as keeping us updated at regular intervals. We have no hesitation in recommending this sitter to all our friends and family, and will be booking our little girl in with Jane again next month. Thank you and keep up the good work!
Response time
about 2 hours
Accepted bookings
73%
Response rate
100%
---
Recommend this Dog sitter to your friends
Tweet
Gudog services in Llandegla