Although summer is over, the year is not yet over and we still have many upcoming holidays like Halloween, Christmas, and the long weekend in December! So we're sure that a 15% discount on Gudog will be handy for you.
If you're lucky enough to squeeze in a getaway (or several may be) in the remaining months of the year, you'll definitely need to plan a mini staycation for your dogs as well, in case you cannot take them with you. Sure there are several options, however, an experienced dog sitter on Gudog is your best bet.
We always believe that the best way to go on a vacation is without having to ask family or friends for favours. Having an experienced dog sitter who can follow your instructions, maintain your dog's routine, and also offers a familiar environment is always reassuring when we're away.
September is a difficult month for everyone as you're busy planning and have to book any plans in advance to ensure you don't miss out. That is why we want to offer a 15% discount on your next booking on Gudog . For more information on the coupon, kindly review the following details: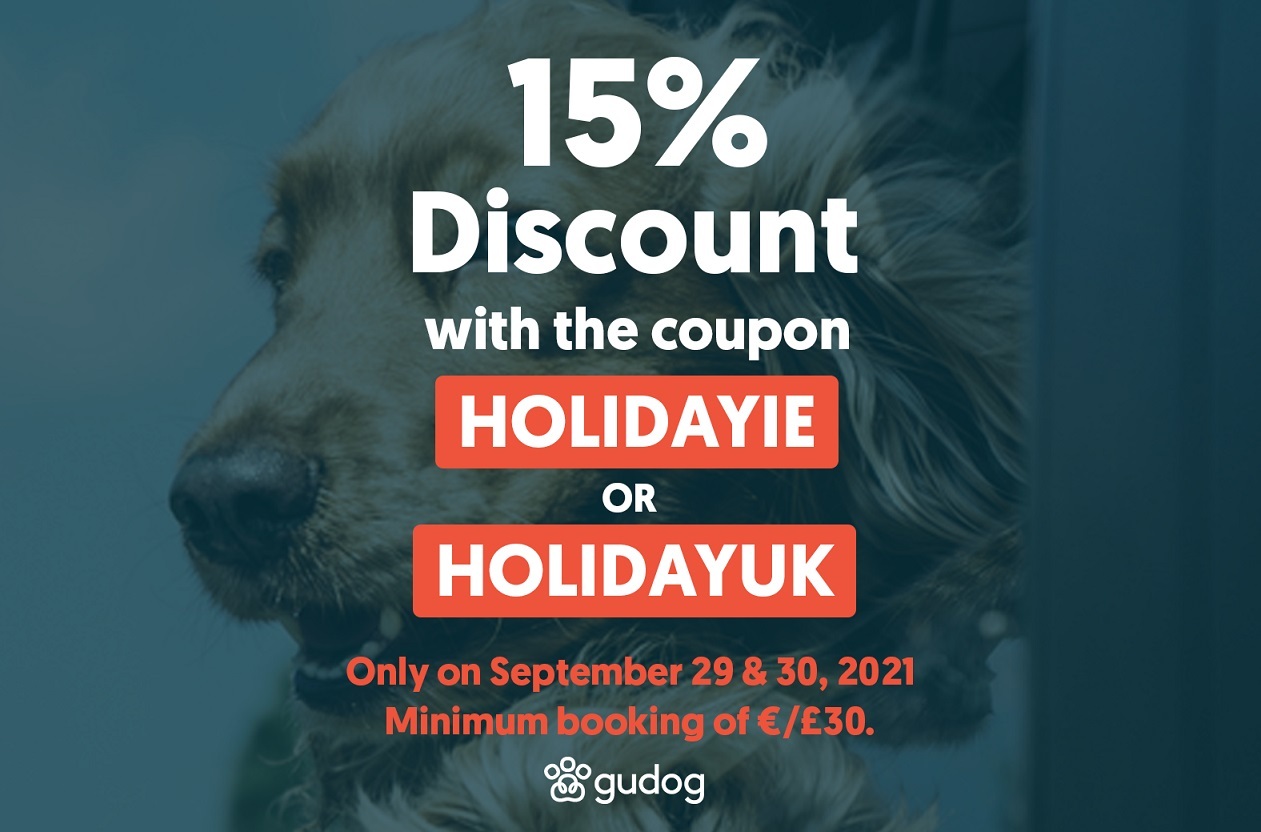 Simply use the coupon while making the payment for your booking: HOLIDAYIE / HOLIDAYUK
Only valid until September 30 at 11:59 p.m.
You can make a booking for any date.
The minimum amount of your booking must be €/£30.
Free cancellation up to 24 hours before the start of the booking for a 100% refund
Tempting right? Additionally, since we have a flexible cancellation policy, you can book even if you're unsure right now and cancel more than 24 hours in advance to receive 100% of the amount of your booking.
Do you need help making a booking? Click here for more information on how to make a booking on Gudog in 5 simple steps. If you have any questions, please feel free to reach out to us through our help chat or our email: info@gudog.com. We will be more than happy to help you!
Do you know Gudog?
Gudog is a platform that connects experienced dog sitters and dog owners. Our platform allows each owner to find the perfect caregiver, making the reservation conveniently and guaranteeing secure payment. Gudog is the best alternative to dog boarding kennels.