During the Second World War, our canine friends had an important role to play, with most becoming mascots, couriers or friends to confide in. One brave pooch even became a 'prisoner of war'.
---
1. Venus the Bulldog
The Royal Navy destroyer 'HMS Vansittart' had a fierce (but jolly), hat-wearing bulldog named Venus to help them wage war on the enemy at sea.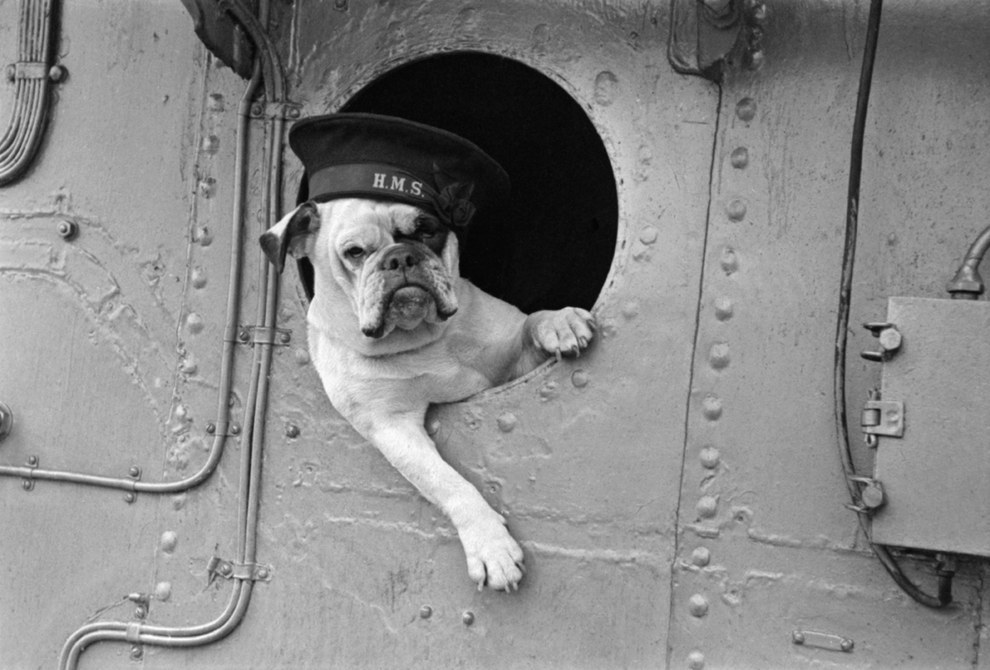 ---
2. Scrappy
Scrappy, and his monkey partner in crime Joe, were the mascots of American pilot Robert W Biesecker and his crew. What a great way to lift spirits.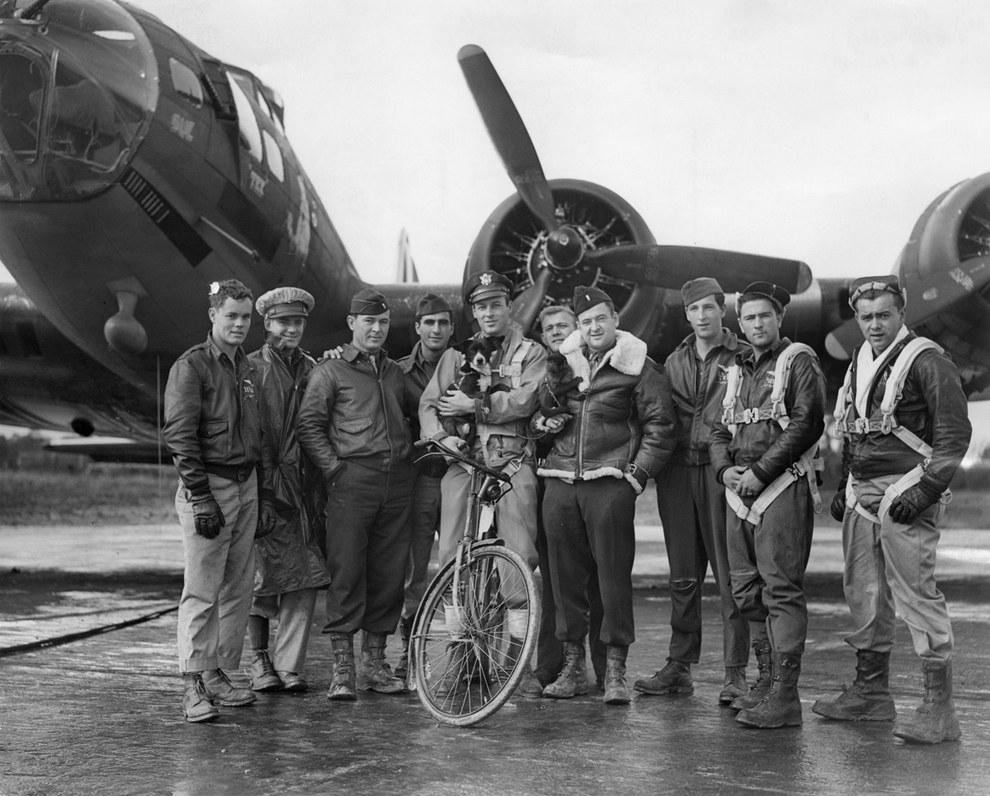 ---
3. Butch O'Brian
Buch O'Brian was a spaniel mascot for the US Navy. Good to see he took safety seriously with his life jacket securely fastened.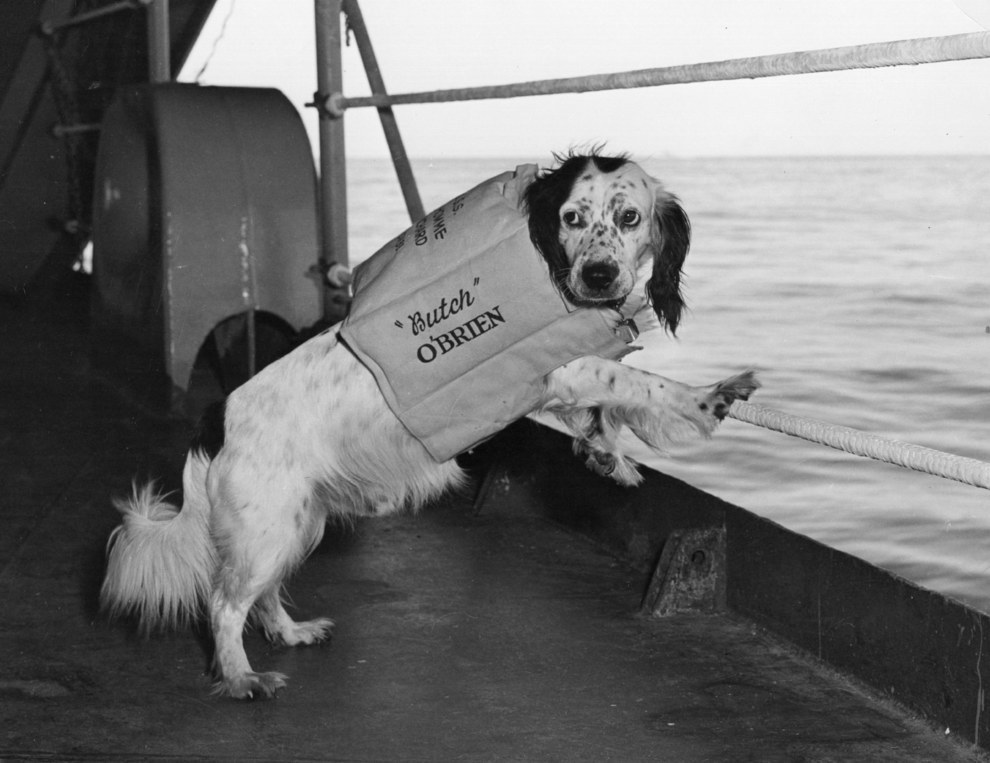 ---
4. Coupie
Coupie was a hard-working mascot for the squadron in the Allied Expeditionary Air Forces. He would visit every aircraft and pilot before take-off, to wish them luck ahead of their mission.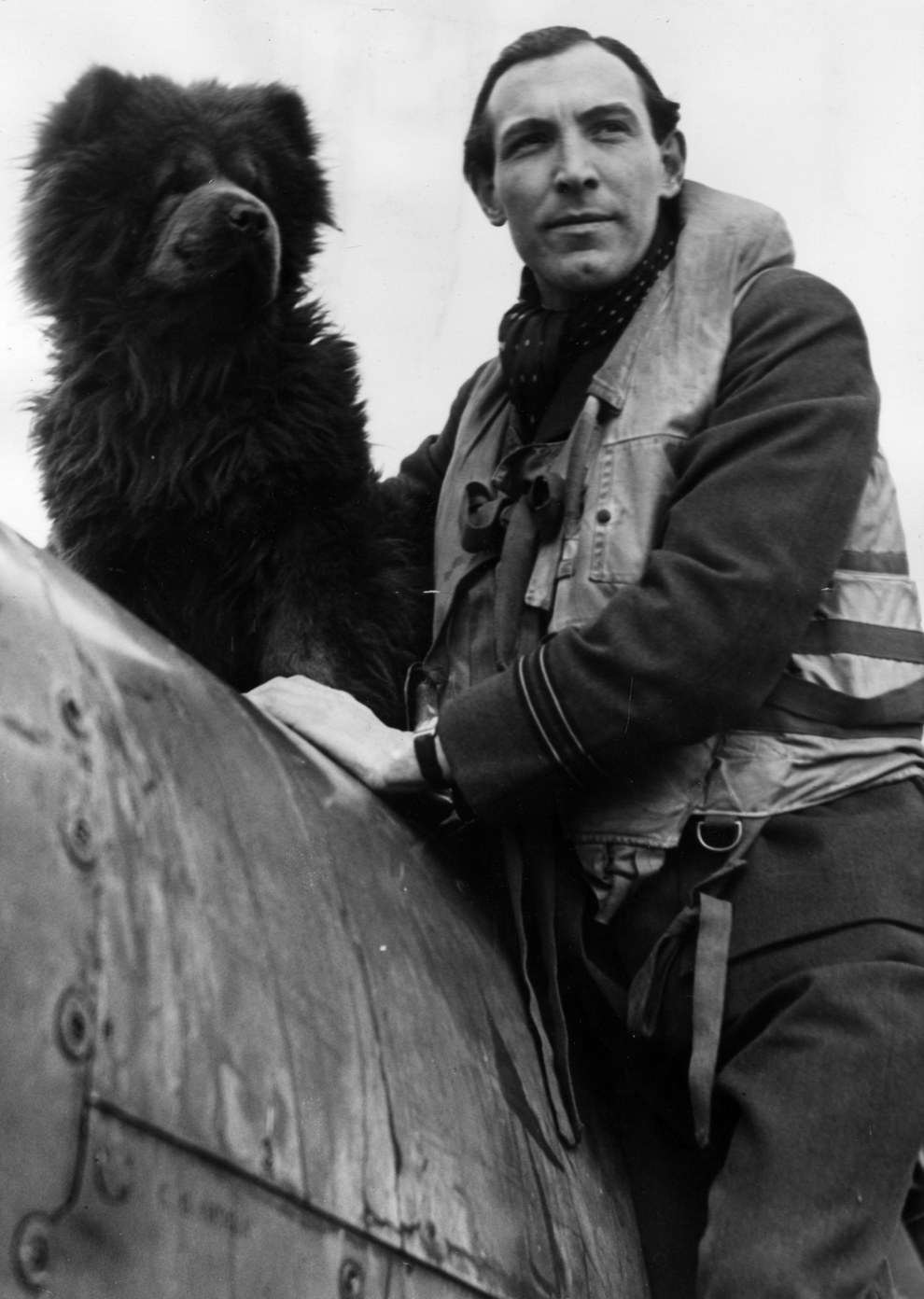 ---
5. Queenie
There is no denying Queenie the Bulldog was a diva. Here she is participating in a dog show to raise money for 'War Weapons Week', in Twickenham.
---
6. The Hell's Angels Bulldog
This English bulldog was the mascot for a regiment from Quebec based in England. We don't know the regiment's name, or in fact the pooches name, but this photo of them riding shotgun was taken on the 11th October 1941.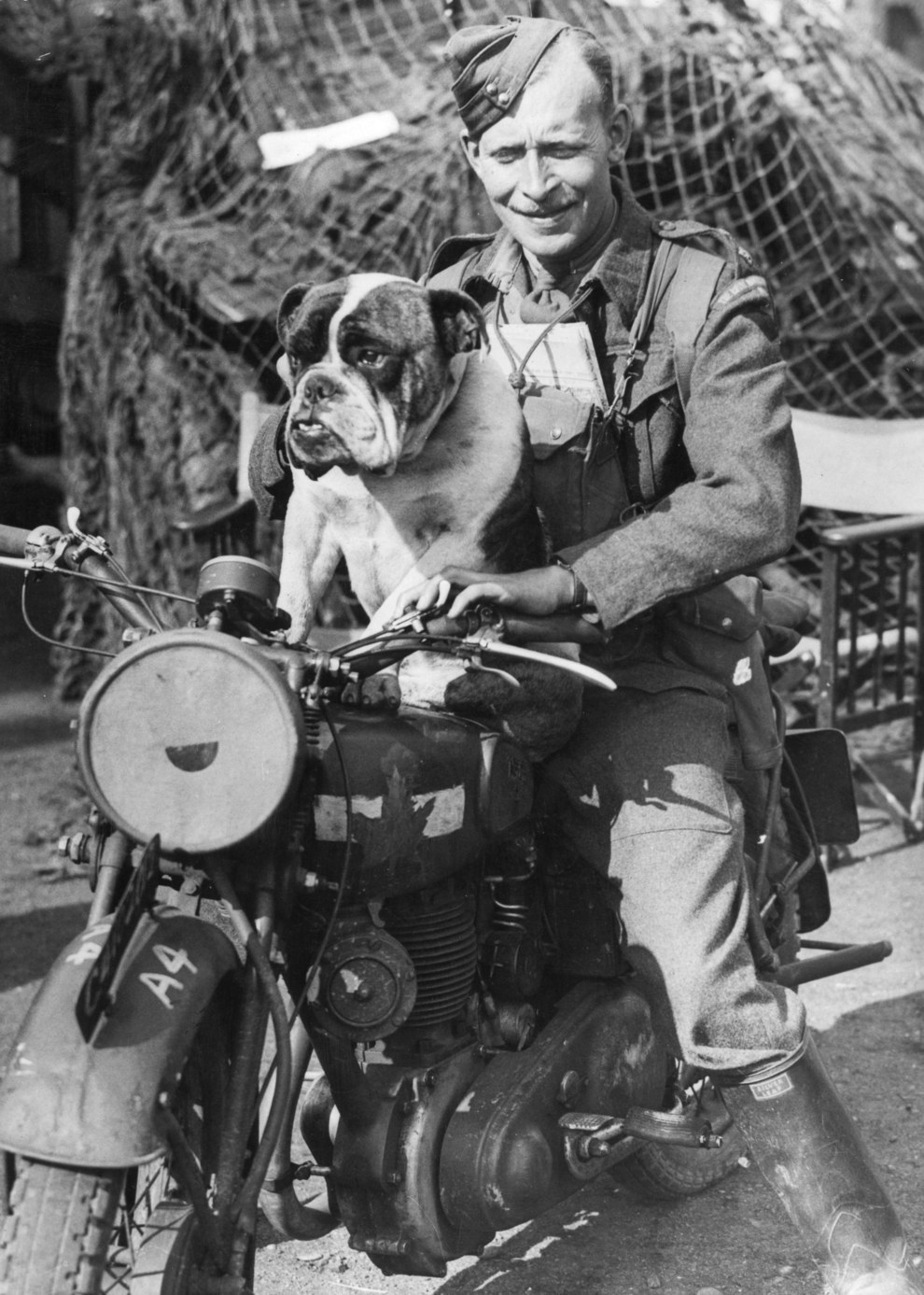 ---
7. Oleg
Was this beautiful Samoyed the inspiration for Frozen's Olaf? With his frosty coat of fur and snowy sounding name, he could be straight out of a Disney movie! He was actually the mascot of a Canadian squad, adopted by one of their men.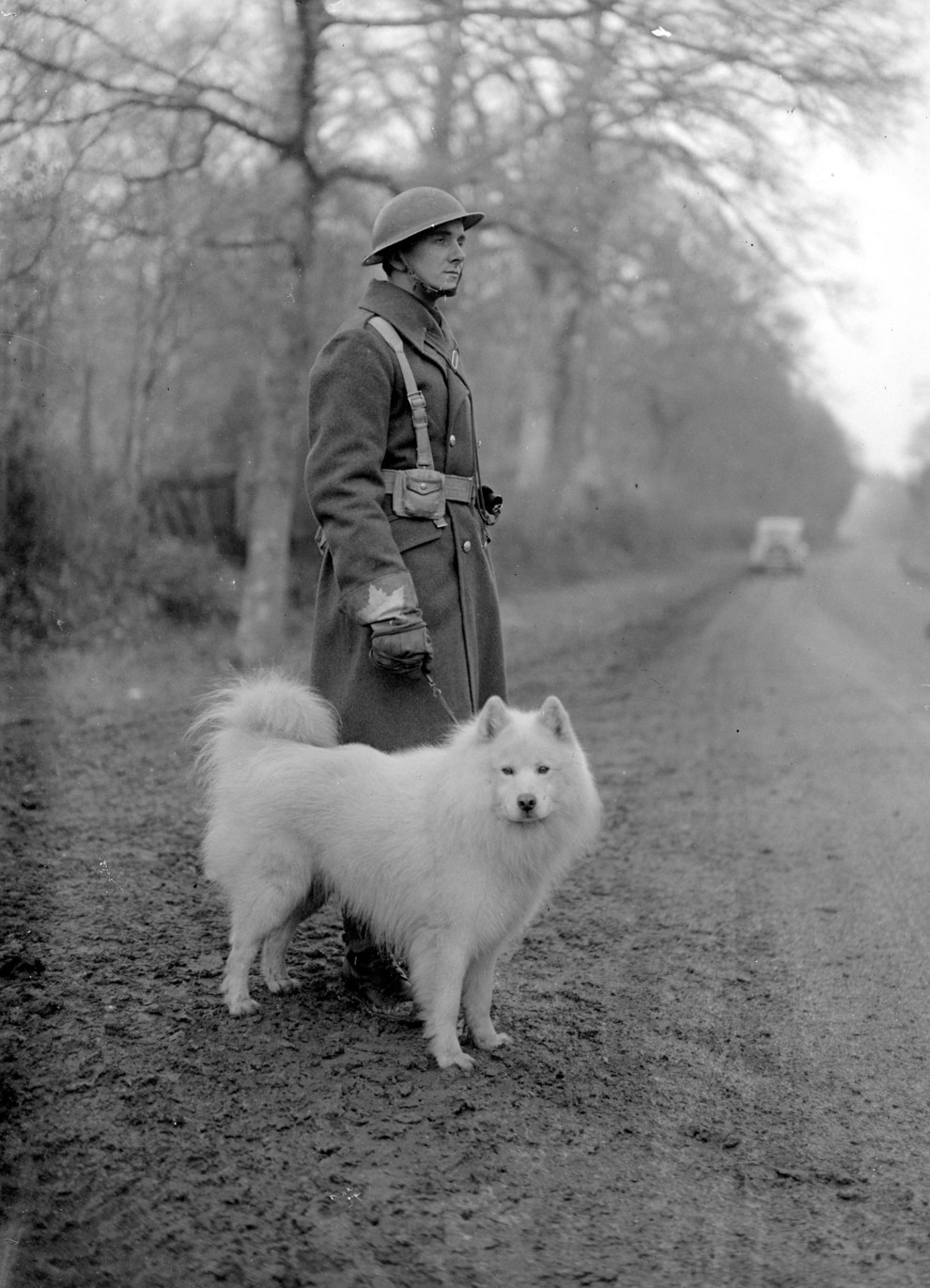 ---
8. Saintly Saint Bernard
Here we have a Saint Bernard making his way through a snow laden valley in France with the French patrol. He is noted by Historians to have been a very brave dog, uplifting the troops when they needed it most.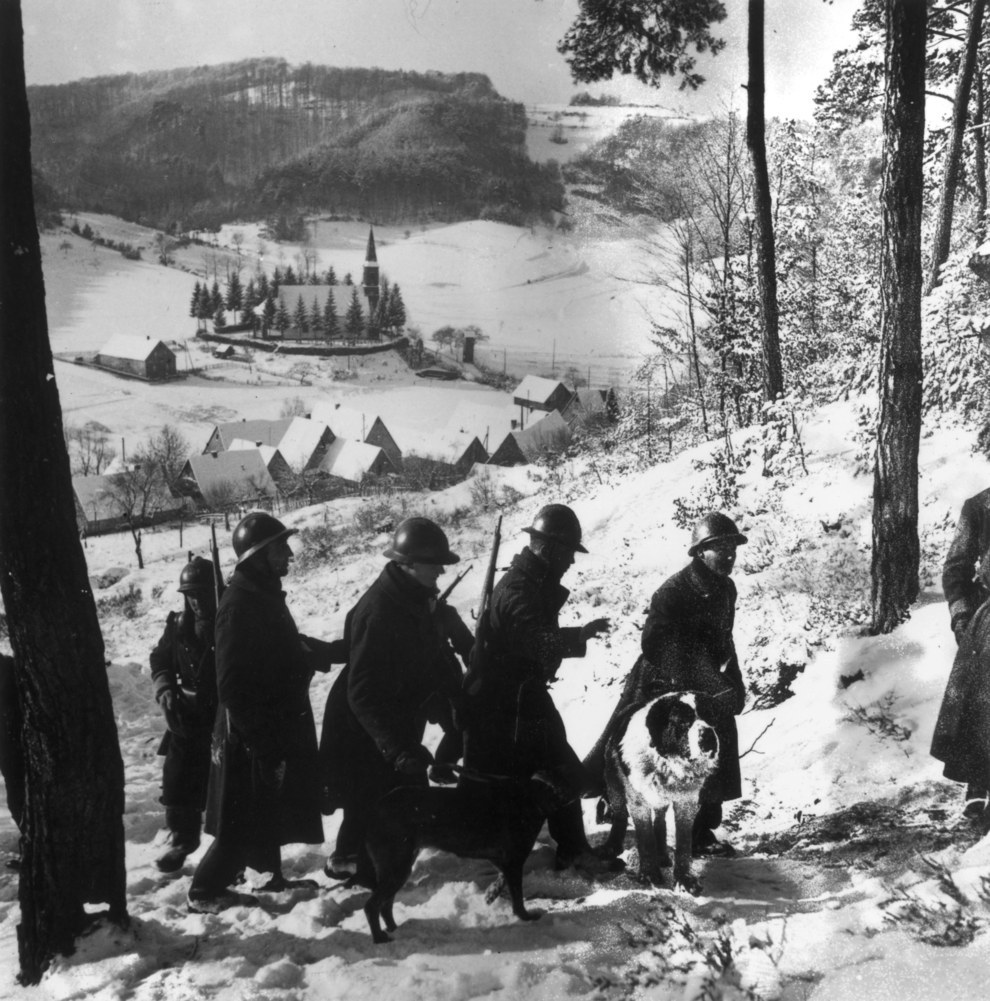 ---
 9. The Airedale Terriers
These two Airedale Terriers are pictured at a canine training camp in England. One is wearing a special gas mask and the other carrying rations for a wounded soldier.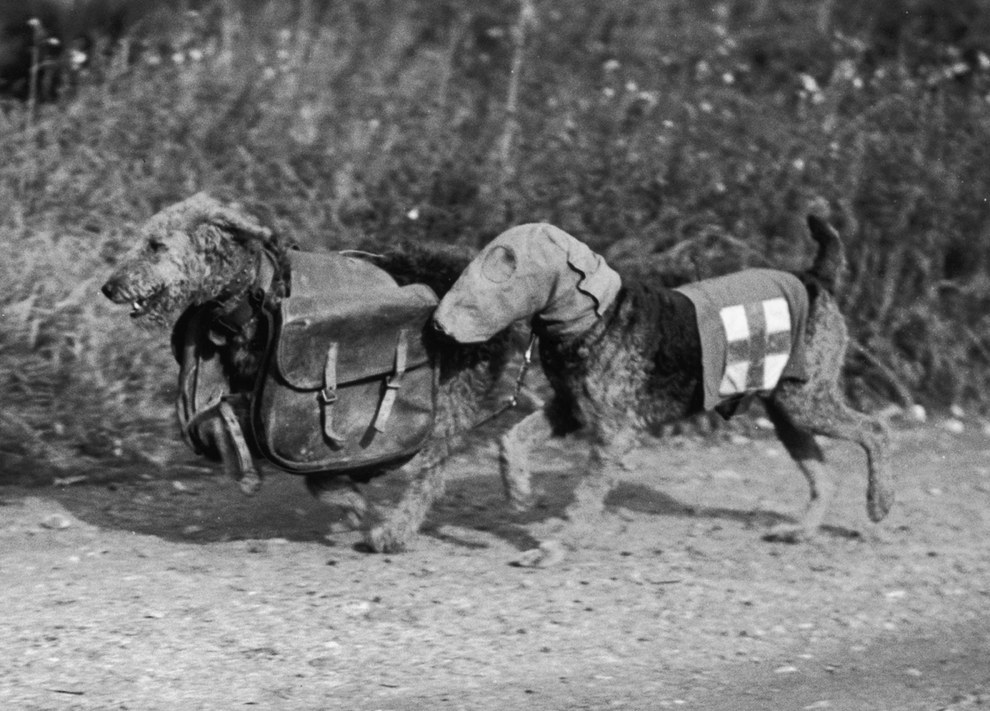 ---
10. The Courier
This pooch is pictured standing by the side of a French officer waiting to deliver the message he is writing. Dogs acted as couriers to posts scattered across the French zone. Using dogs removed the possibility of the messenger reading the posts, and reduced the likelihood of them being captured by the enemy. Trusty dogs.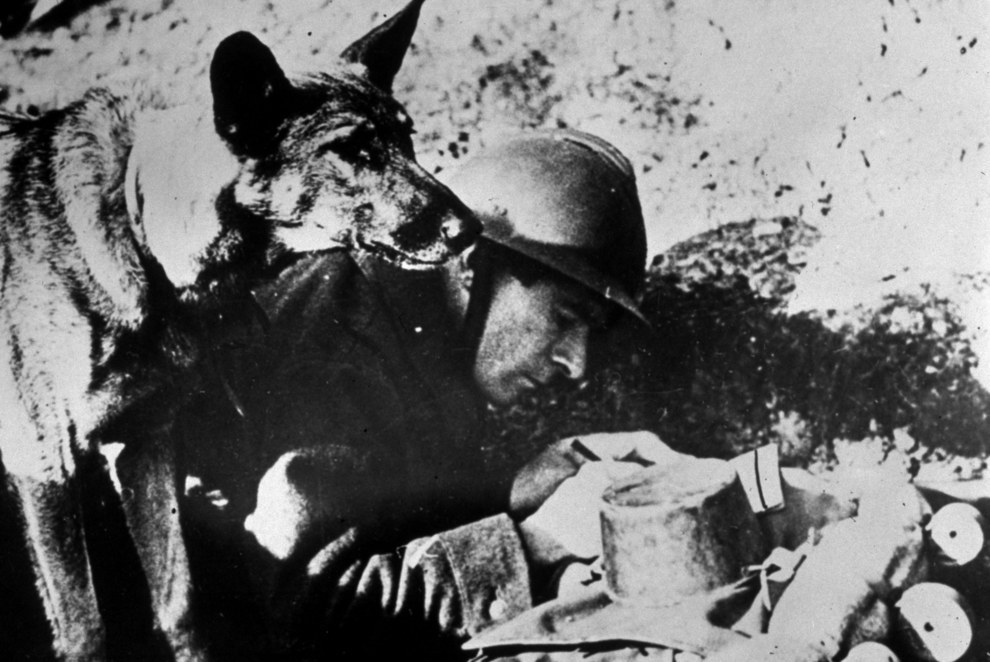 ---
11. Spot!
This lucky Terrier was found and adopted by members of the London Fire Service. Spot became their trusty mascot.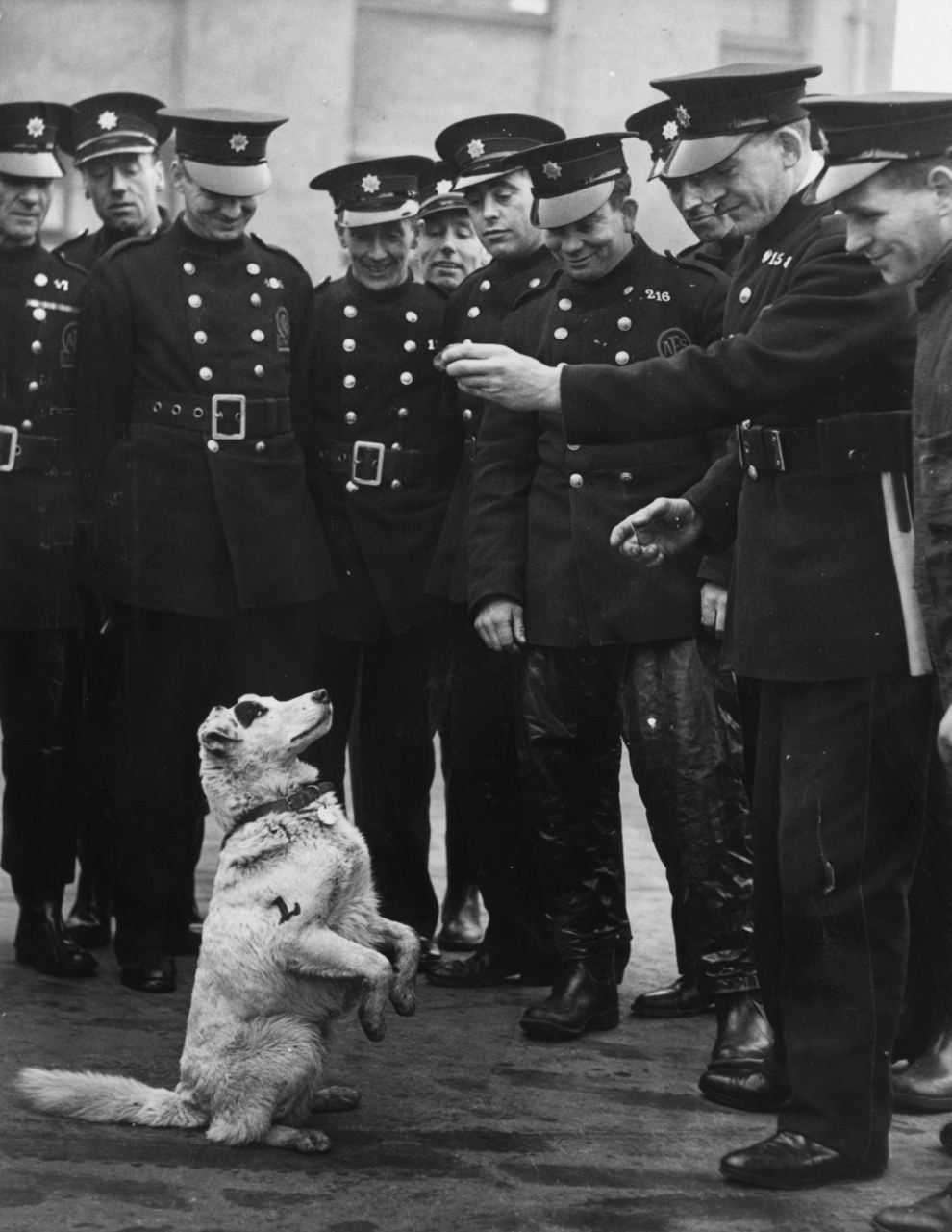 ---
12. Judy
Judy the English Pointer was revered as a hero. She began her story as a ship's dog on board HMS Grasshopper, and when the ship sank she helped save many of the crew's lives.
She then spent three and a half years in a Japanese prisoner-of-war camp, escaping death many times. She is the only dog to be registered as a WWII Prisoner of War.
This picture was taken right before she was awarded the PDSA's version of a Victoria Cross, for her heroism during World War II. Goosebumps.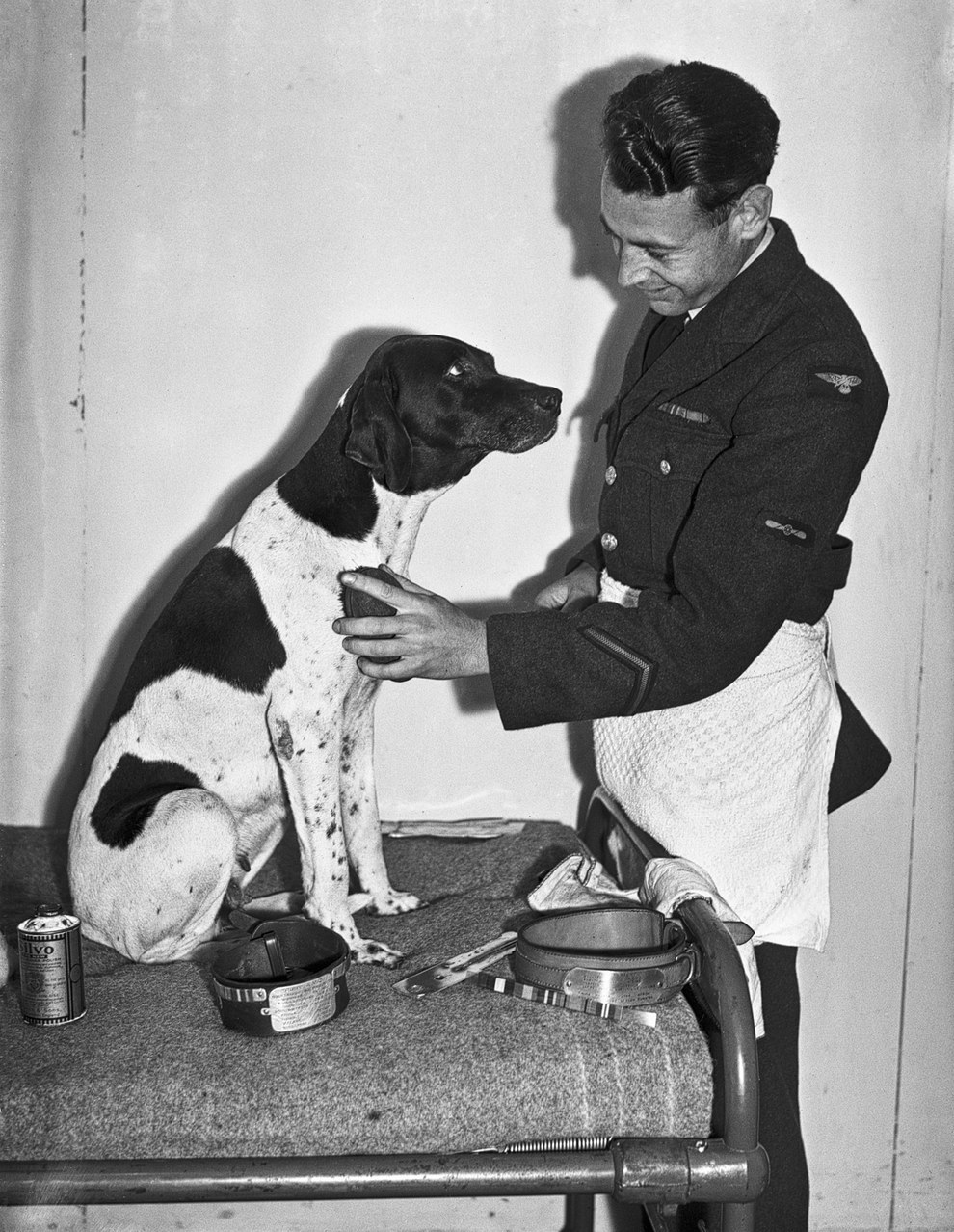 ---
13.  Willie the Bull Terrier
Not a mascot, but undoubtedly a great comfort for American General George S Patton during rough times.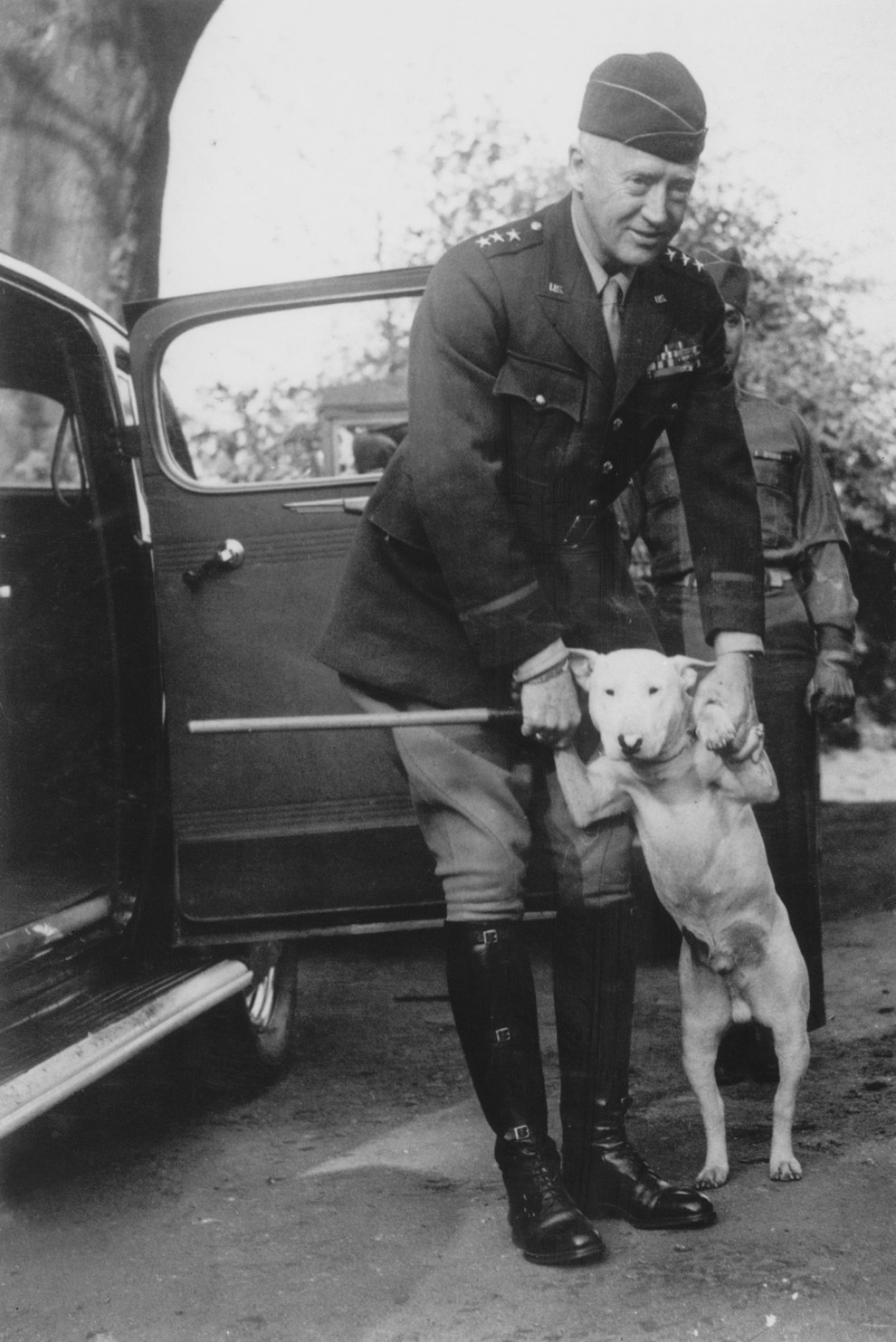 ---
14. Guard Dog
Nobody is sure of this Bulldog's name or story, but here they are, sat guarding a block of flats in London with a steel hat. In our opinion they are doing a damn good job of it; we'd beware of this pooch if we saw it!!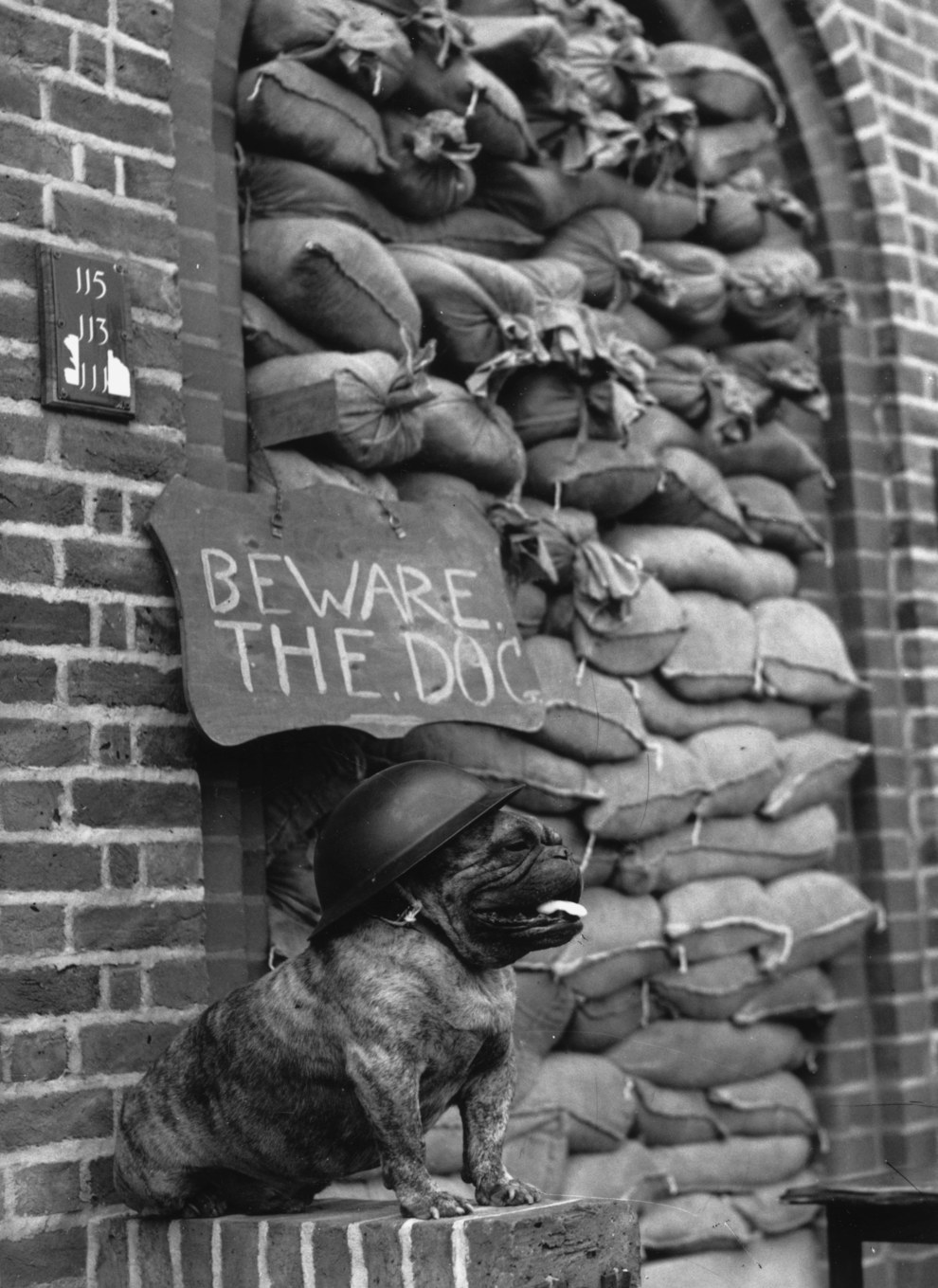 ---
For more doggy related articles, have a good read of our Gudog blog.
Keep up to date with all things canine by following us on Instagram, Facebook and Twitter.
Do you know Gudog?
Gudog is a platform that connects experienced dog sitters and dog owners. Our platform allows each owner to find the perfect caregiver, making the reservation conveniently and guaranteeing secure payment. Gudog is the best alternative to dog boarding kennels.