Songs of good cheer, Christmas is here! (Sorry not sorry).
The Yuletide brings us many delights; fairy-lit streets, presents, decorations, endless family dinners, crackers and heaps of mince pies, to name but a few.
While it's a wonderful time for all the family, December is actually the busiest month of the year for vets. Read on for facts of how to keep your dog safe this Christmas, especially if it's their first festive season!
---
Christmas decorations
Here at Gudog, we're a bit extra when it comes to decking the halls. It's important to consider your pooch when getting your home in shape for Christmas; what might look like a bauble to us is a ball to them. And while we know not to chow down on our strong of fairy lights, our pup doesn't know the dangers. 
Okay, first things first – a funny picture with your pooch adorned in fairly lights is not worth electrocuting anyone. Just don't do it.
If you've got a dog dog prone to chewing, you'll want to either elevate your tree s they can't reach, or keep a close eye on them while they're in the same room together. 
99% of tinsels are painted with sprays which are toxic for doggos (and humans for that matter). Some are made with metal wire to give a specific shape, and even if it's not, it's still a choking hazard if it gets caught around your dog's neck.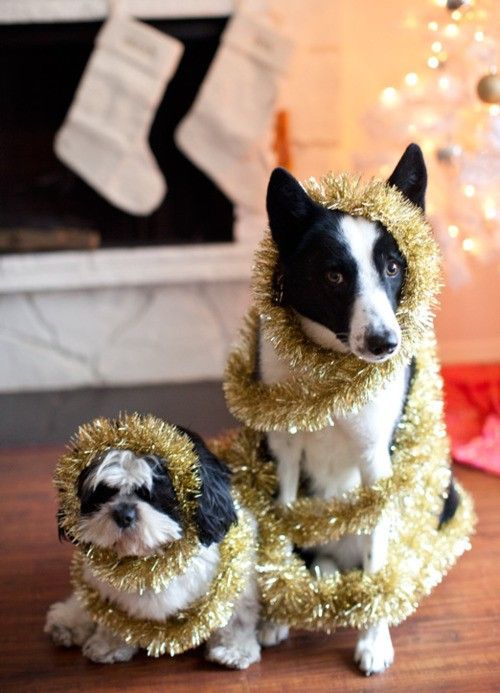 Small or big, Christmas baubles with their bright colours will catch your pooch's eye. Pick sturdy, non breakable baubles (these are common nowadays), and ones that are big enough for your dog not to be able to swallow them. If you've got some special baubles (just us..?!), hang them high up on the Christmas tree.
Keep an eye on shed needles; your dog could swallow them or get them stuck in its paws. Avoid this by removing needles from the floor daily, or breaking all the rules and getting an artificial tree.
Poinsettia is extremely toxic to dogs as it produces latex. If you or your dog get too close, it can cause rashes, vomiting, diarrhoea, and in particularly bad cases, eye damage. Keep them well out of reach of your pooch. 
We know it's obvious, but we can't leave it out; not only could your dog could burn itself on a candle, it could also knock one over and cause a fire. So remember to keep candles always high up, and a safe distance from any flammable items.
Christmas food
General over indulgence for humans is expected at Christmas. Try and avoid letting your doggo join in on the fun too. Smaller breeds particularly gain weight easily so a little extra over the festive period can lead to a lot extra on the waistline in the long term. As ever, avoid feeding your dog chocolate – it's highly toxic. More for you anyway. 
---
Share pictures of your festive pooch with us, and keep up to date with all things canine by following us on Instagram, Facebook and Twitter.
Do you know Gudog?
Gudog is a platform that connects experienced dog sitters and dog owners. Our platform allows each owner to find the perfect caregiver, making the reservation conveniently and guaranteeing secure payment. Gudog is the best alternative to dog boarding kennels.