If you're planning to hit the beach with your dog this summer, keep reading! In this post, we've summarized everything you need to know to ensure both you and your furry friend have a fantastic beach day.
Not long ago, this plan would have seemed nearly impossible as there were very few beaches that allowed dogs. However, the good news is that more and more beaches are now welcoming our four-legged companions. This makes going to the beach with your dog an excellent way to cool off during the summer. Of course, there are a few important factors to consider beforehand.
Going to the beach with a dog: is it possible?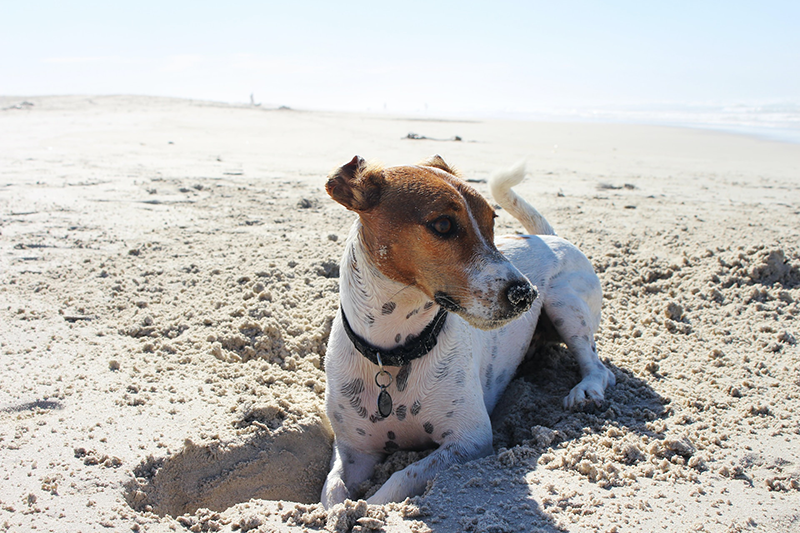 It is essential to familiarize yourself with the local regulations before heading to a dog-friendly beach. Typically, you will find informative signs on the beach itself regarding access rules and the presence of dogs.
Please note that certain beaches impose restrictions on dogs, such as specific times or limited areas where they are allowed. On the other hand, some beaches may completely prohibit dogs. Therefore, we strongly advise you to research the access regulations of the particular beach before planning your visit. Remember, each beach has its own set of rules, and what applies to one may not be applicable to others.
Things to consider before going to the beach with a dog?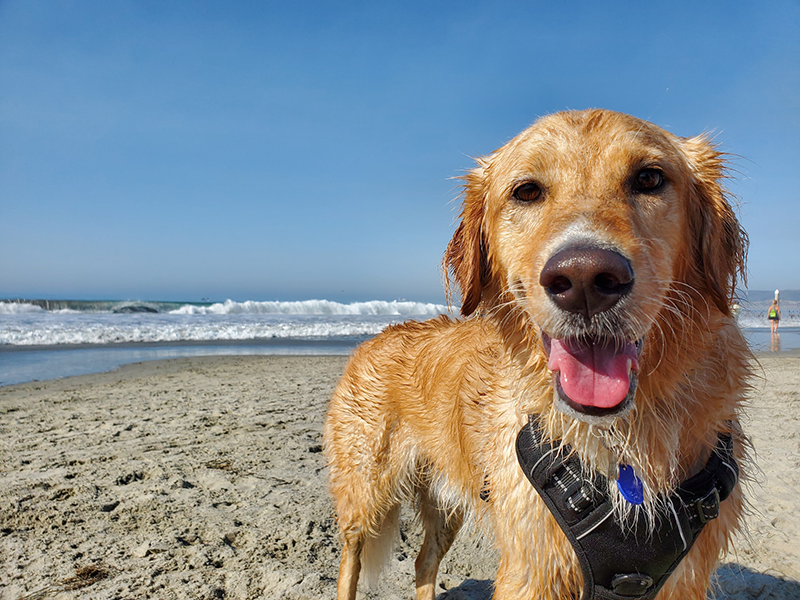 Now that you've chosen a dog-friendly beach and confirmed that both you and your furry friend are welcome, it's time to take action!

Just as you prepare your own backpack or beach bag, don't forget to do the same for your dog. Here's a checklist to ensure you have everything you need:
Documentation and microchip number card.
Collar or harness and leash. Make sure your dog wears their collar or harness at all times, and consider including your phone number on it or an identification plate.
Sufficient fresh water and a drinking bowl for the entire day.
A toy or two to keep your dog entertained at the beach, such as balls, frisbees, or their favorite toys.
Poo bags for cleaning up after your dog, just as you would when you go for a walk.
Sunscreen and paw protection for your dog. Don't forget, sand can cause burns to their paws as well.
An umbrella for both of you to seek shade and protect yourselves from the sun.

Once at the beach…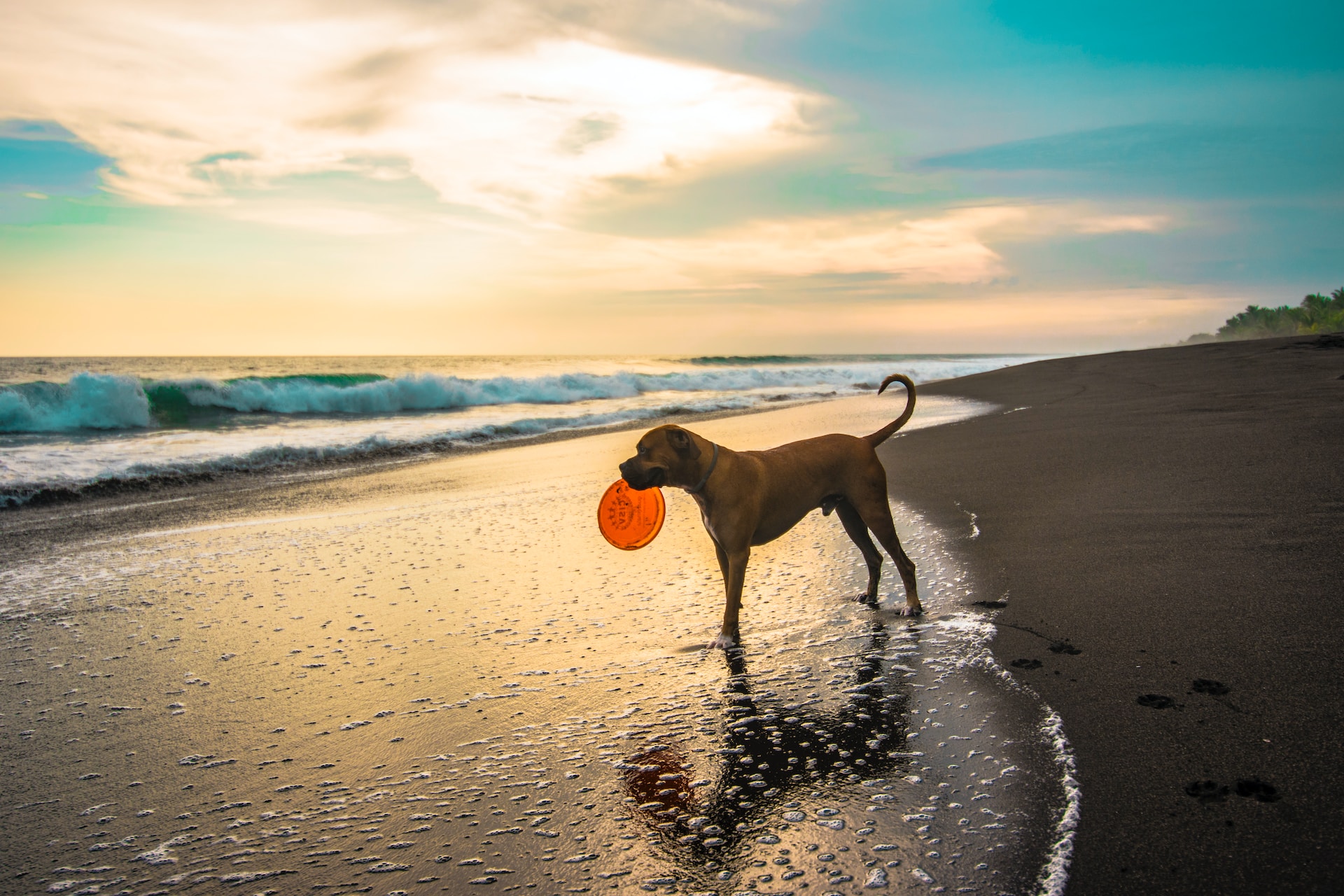 We have everything prepared and it's time to head out for an enjoyable day at the beach. But what's the ideal time? We strongly recommend choosing a suitable time slot to bring your dog to the beach. Avoid the central hours of the day when the sun and heat are at their peak. Instead, opt for the early morning or late afternoon hours.
Upon arriving at the beach, find a peaceful spot and set up your umbrella to ensure you have shade available at all times. Some dogs, especially those with less hair, may require sunscreen. Apply it as soon as you arrive to protect their skin.
Remember to offer your dog water regularly to prevent dehydration. Try to discourage them from drinking seawater as it can lead to gastrointestinal issues.
Speaking of heat, it's important to limit your dog's exposure to direct sunlight for long periods. While the sea breeze may provide some relief, extended exposure could potentially lead to heat stroke. The umbrella will be your best ally, providing shade and respite for both of you.
Lastly, a challenge: do your best to prevent your dog from eating sand at the beach. We understand it can be challenging, but ingesting large amounts of sand can lead to veterinary issues. If your dog enjoys digging holes, feel free to let them indulge in this activity, but remember to cover their work of art before leaving the beach to avoid any accidents.
Now, you have all the information you need to fully enjoy your beach trip with your dog.
However, if your dog cannot join you for this beach adventure due to restricted access or simply not being fond of the beach, we have a solution for you too. Find a Gudog sitter in your area today. Your dog will have a fantastic time at their sitter's home while you enjoy a wonderful day at the beach. Is there a better plan than this?
Do you know Gudog?
Gudog is a platform that connects experienced dog sitters and dog owners. Our platform allows each owner to find the perfect caregiver, making the reservation conveniently and guaranteeing secure payment. Gudog is the best alternative to dog boarding kennels.