Dog Sitter Dog walker
Service
Pick up and/or drop off
Fee *
Dog Boarding
£6 / one-way. Maximum distance: 100 km
£38
Holiday Rate £50
Dog Walking
Included in the rate
Maximum distance: 50 km
£20
Holiday Rate £28
Doggy Day Care
£6 / one-way. Maximum distance: 70 km
£28
Holiday Rate £33
* The rates do not include Gudog's commission.
Amended availability in the last 2 months
Available for bookings
Not available
Hello my name is Emily :) I have been dog waking/sitting for over ten years. I've worked for quite a few dog walking companies. I now run a home from home care. I was raised around animals on a farm in Northern Ireland. I love dogs I wouldn't change this job for the world!
When your pet is with me I will take care of him/ her like they are part of my family. I am very loving caring, hard working punctual. I can provide amazing reference if needed. I offer walks daycare, overnight care ( your home or mine ) I have a large two bed house with a big garden lots of memory foam beds,toys,bowls,treats doggie tv and more!
We also provide animal care & livery services available if needed. Thanks doggie days🐶😺💕
Average rating

Dog Boarding Rate

£38 / night

Dog Walking Rate

£20 / hour

Doggy Day Care Rate

£28 / day

City
London
Address
Pawsons RoadCr02QF London
Type of property
House
Outdoor areas
Garden
Outdoor size
20 m²
I own a car suitable for transporting dogs
Other clients' reviews of Emily
Katrien
& Biscuit
Emily was brilliant! After a couple of days, our fear agressive 45kg mastiff crossbreed loved her. Our chihuahua loved her immediately. Emily kept in touch throughout the days so I never worried. We are definitely booking her again for dog sitting and have asked her to walk our mastiff crossbreed. I highly recommend Emily.
Teresa
& Milly
Emily was a brilliant dog sitter, our dogs Milly and Peaches didn't want to leave .
Emily gave daily updates and photos , and you can tell she is just a natural when it comes to animals
I will be using Emily again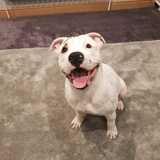 Sarah
& Duke
Emily is amazing so good with our dog and the other dogs that have dogg day care. From my first contact nothing was too much trouble. My dog Duke absolutely loved it at Emily's usually we have to walk him in the evening but he has been so tired My dog Duke loved it could not wait to go also did not want to leave. The dogs are looked after as if they were there own. exercised I cant rate Emily enough 10 out of 10 would use again and highly recommend Thank you for the wonderful service
Carolina
& Churchill
Emily is the best! It was the first time for Churchill, and for myself, and I think we were both nervous and anxious, but thankfully everything went well and Churchill returned home very happy. Thank you Emily